Do you need to hire a contractor?
(If you have someone that might need this information, please share it with them. On Facebook, click the "share" button. This information could save a lot of pain, heartache and money in the future.)
By now, a lot of you are working to get your homes back in order. You need to hire a contractor: a water damage company, a flooring company, an ac contractor, a general contractor… maybe one or two of these, maybe all, maybe more.
You know that there are people and companies that will take advantage of your vulnerable predicament. Thankfully, there are great companies out there also! Unfortunately, you are going to have to figure out who you want to do your work, without getting SCAMMED.
Which contractor should you use?
That is a great question, however, it is not always easily answered.
I was once told that, "It is a sorry duck that doesn't praise his own pond." So, when it comes to air conditioning, heating and commercial refrigeration, I will always answer with Arctic Air.
Of course, that doesn't help you when you need a general contractor, a roofer, a carpenter, a sheetrock contractor, etc. This post has been written to help you in your decision making process. One thing that I cannot stand is when a person or company robs, cheats, steals or lies to those who are in need of their services.
This blog will give you the power to help you choose a reputable contractor… and hopefully, a local contractor that will be here for you in the future. So, here we go….
Tips for hiring a contractor
Here are some tips to help you hire a contractor. If you haven't already, check out Flood Victims… Don't get taken by unscrupulous contractors!
Do you provide written estimates? – Once you have figured out what contractors you will need, get written estimates from several firms. Don't chose the lowest bidder because they are the lowest bidder. Make sure you find out why. Is it inferior material? Are they licensed?  Do they have appropriate insurance coverage? Are they using qualified labor? Be sure the scope of work and materials that are being used are noted.
How many jobs have you done like this? – How many similar jobs have you completed this year? Were the jobs that they completed similar to yours?
Do you need a permit? – You will want a contractor who is familiar with the permitting process in your "neck of the woods".  Most areas require permits for many of the jobs that you may need a contractor.
Can you provide a list of references? – Don't be afraid to ask for references. Get the name, address, phone number of 2 or 3 customers that have worked with the potential contractor. Be sure the jobs were similar to yours. Ask each  if the job was completed on time, are they satisfied with the job and the quality of the work, were there any "unexpected" costs for the job, did the contractor show up on time, and was the work area cleaned up after they were finished?
Do you have the appropriate insurance? – This is extremely important! According to the Federal Trade Commission website, "…you could be held liable for any injuries and damages that occur during the project." Contractors should have personal liability, workers' compensation and property damage coverage.
Will the contractor be using any subcontractors? – If the answer to this question is "yes", they will need proof of insurance AND the appropriate licenses.
Additional Tips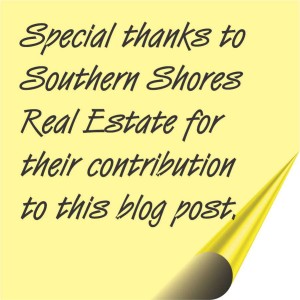 I asked Cheryl Ludlum if her team at Southern Shores Real Estate had any recommendations. Not only did they echo the tips above, but they also added these.
Are you the on-site project manager? How often will you be on-site? – Sometimes the person meeting with you to bid on the job will not be the person you work with. It is important to know who is managing the job.
What is the projected timeline? Not just a start and end date, but an outline of specific phases of the job and their completion dates.
Will the timeline, cost and detailed scope of work be outlined in a written contract?
What type of deposit is required? Southern Shores recommends that you do not pay any labor upfront. It is acceptable to pay a percentage of the materials up-front, but make sure any additional payments are tied to the completion of specific phases of the contract.
How will changes in the scope of work be communicated? Again, the Southern Shores Real Estate team says that, "The client should always have to sign off in writing to any changes in the scope of work or price."
Southern Shores Real Estate can help with real estate, property management, vacation rentals, new homes, construction/maintenance, and cleaning/custodial services. The currently have an office on Main St. in Summerville, SC and on St. Andrews Blvd. in West Ashley. To reach them by phone, call 843-225-2990, or by web www.southernshoresre.com, or by facebook at www.facebook.com/southernshoresre.
(I would like to thank Cheryl and Brock for getting this information together for this blog. They are busy, but they are concerned about people getting taken advantage of by unscrupulous contractors and people.)
I know that this takes a little more effort on your part, however, you will be glad you did the extra work. A reputable company will easily be able to accommodate your requests.
If you find that you need a good, honest, licensed, insured and reputable ac and heating company, please call Arctic Air, Inc. 843-821-0937. You will be glad that you did!
5 Star Review
Here is a 5 Star review that Frank B. left for Arctic Air on Facebook.
Our A/C unit decided to give up on us during the last of the 90 degree weather, (not good at all!) Luckily, we had received a flyer in the mail the same day that it quit working. Called the number, talked to Mike & within the hour he was at my house discussing possibilities on how to remedy our situation. I'm so glad I made that call! What a great group of people! We upgraded our entire system (He…at & Air) and Mike helped with arranging the financing! These people are VERY PROFESSIONAL, on time, very knowledgeable about the products that they offer, and all around great people to work with! The installers that were here were great, they answered all of my questions and even took the time to explain how to work the new equipment! They set us up with portable units to keep us cool over the weekend that the system was down.
If you need heating-A/C work, these are the people to call! No, I don't work for Arctic Air, Inc. But if you'd like to know more about my experience with them, feel free to call me! 843-296-5581 Franklin